Rudas Baths | Turkish Thermal Bath in Budapest
Table of Contents
One of the most well-known medieval Turkish baths in Budapest, the Rudas Bath is known for its infrastructure, relaxing spa services as well as the different kinds of pools that the bath offers. With its 10 m diameter dome, held aloft by 8 pillars, the bath has been operational since the Turkish conquest of Hungary in the 16th century. 
Don't get your towel in a twist on deciding where to head to as we are here to provide you with the ultimate guide to the Rudas Baths to make your trip a memorable and relaxing one. 
Rudas Baths: An Overview Number of Pools & Baths: 6 thermal pools and a swimming pool out of which one is an authentic, octagonal Turkish pool
Architectural Style: Built during the Ottoman Rule in the Turkish style
Water Temperature Range: 51.8°F - 107.6°F with the coolest being the immersion pool and the hottest being the Juventus pool
Medicinal Components of Water: Sulfate, magnesium, sodium, calcium, and a significant amount of fluoride ion.
About Budapest Baths
Rudas Bath Location
Address: Budapest, Döbrentei tér 9, 1013 Hungary.
Tram No. 19, 41, 56 and 56A take you straight to the thermal complex building.
Bus No. 7 will stop at the bridge, Rudas Bath is a 2-minute walk from here.
Why are Rudas Baths Famous? Budapest's Rudas Bath is famous for the medicinal properties it offers as the water in it helps cure a lot of joint illness, inflammations, vertebral problems, and more. Known for its Turkish features within, the traditional Turkish dome and octagonal pool, Rudas Baths are as pleasing to the eye as they are to your body. The bath offers 6 therapy pools and one huge swimming pool to choose from.
The rooftop hot tub is the biggest attraction, providing a great view of the Pest skyline. The bath offers a same-sex day on weekdays and is the only one that does so in Budapest. 
Medicinal Waters of Rudas Baths Rudas Bath receives thermal water from three sources, namely Hungaria, Attila, and Juventus, and contains various components like sulfate, magnesium, sodium, calcium, and a significant amount of fluoride ion. It is said that thermal water can help treat issues pertaining to the musculoskeletal system (joint issues, lack of calcium, spinal-related issues, neuralgia, etc.). The bath also has a room that pumps healing water. Drinking water from the fountain is suitable for people with diseases of the kidney, respiratory tract, gout, gastrointestinal tract, to name a few. It is recommended to take a doctor's consultation before trying out these therapeutic measures at Rudas.
Is Rudas Baths a Turkish Bath? Unlike a modern-day Turkish sauna, the Turkish baths of Budapest are baths known as ilidzas that are essentially fed with warm thermal spring water with a central octagonal-shaped pool.
At Budapest thermal baths, warm water with medicinal properties is used, while Turkish Hammam uses steam and hot water. If you're looking for the modern-day Turkish bath, Rudas Bath has that as well, also known as a hammam (Turkish sauna).
Rudas baths have 6 thermal baths with a massive pool, offering a complete spa and wellness experience.
About Turkish Baths
Rudas Baths Architecture Rudas Fürdő, commonly known as the Rudas Bath is a well-known thermal bath in Budapest popular for its fine engineering. Built in the year 1550 during Ottoman rule, the bath still retains its major key elements like the Turkish octagonal pool and the Turkish dome. 
The Rudas bathhouses have six therapy pools and a large swimming pool. The thermal bathwater that is fed from the natural hot springs is said to have a lot of medicinal properties which can cure a lot of health issues. 
When you look closely to observe the bath, you can find inscriptions in Hungarian on a stone standing atop the Juve spring. The locals believed that this had a healing impact on people.
What is Inside Rudas Baths?
Inside the Rudas Baths, you can spot a series of indoor thermal pools where the temperatures range from warm to hot, saunas, steam rooms, cold plunge pools, and rooms for a nice massage. The Rudas Baths have a range of facilities and spa services that are offered. Thermal Baths and Pools
A soak in the thermal baths and pools is the quintessential Budapest experience that is a must-try. The thermal bath waters can be beneficial to ailments like arthritis, circulatory disorder, slipped disc, neuralgia, and other respiratory illnesses. Rooftop Pool
Want to experience a rooftop hot tub while overlooking a panoramic view of the majestic city of Budapest? Rudas Baths serve the purpose just right! Plunge into the rooftop pool and feel the warm waters and you will not be disappointed. Swimming Pool
The room with the pool in the Rudas Baths will blow your mind as it is designed with two stories and has a deck of chairs to lay back and look outside the second floor. The pool is maintained at a temperature of 84.2°F, which is great for a swim. Massage Services
We all love a nice massage, but combine it with a relaxing thermal bath and you have a winner. You can choose from various massage therapies like Aroma Relax Massage, Medical Massage, Deep Nourishing Massage, and Skin Firming Massage. There are also various saunas like the aroma and the Finnish sauna.
Pools at Rudas Baths Rudas Baths are one of the most impressive ones in Europe, not just for its architecture but it is undoubtedly an extreme spa that consists of the two hottest pools as well as the hottest steam room in the city. The space has 6 thermal pools of various sizes and temperatures, allowing you to have that perfect dip.
Wondering what the temperatures of each of these pools are like? 
Large Thermal Pool – 96.8°F
Thermal Pool 1 – 82.4°F
Thermal Pool 2 – 86°F
Thermal Pool 3 – 91.4°F
Thermal Pool 4 – 107.6°F
Cold Pool – 60.8°F
Rudas Baths Highlights Turkish Bath
The Turkish bath is the oldest part of the Rudas Baths with an octagonal pool and a quintessential large Turkish dome. Indeed, a sight to behold, the bathhouse will take you back in time with its ancient concrete pillars and miniature holes that let light seep in from the top of the dome. Thermal Baths
A modern version of the ancient Turkish baths, the Thermal Baths are a replica of swimming pools with jets offering a relaxing hydromassage. You can try contrast bathing, where you get to enjoy the hot and the cold side of the pool, followed by a nice warm shower. Swimming Pool
A stunning pool of dreams, the room consists of two stories with a deck of chairs to relax and enjoy a view outside the second floor. The pool is used only for swimming and has a great temperature apt for breaststroke only. Wear a swim cap when you are at the pool.
Sauna
Love hot saunas? Rudas Baths have the perfect sauna to fade your stress away. You will find the authentic Turkish sauna called hammam here. Rudas Bath also offers other sauna options like the aroma sauna and the Finnish sauna where temperatures range from 104°F to 212°F. Rooftop Pool
Undoubtedly the most exciting part of the Rudas baths is the Rooftop Pool. The rooftop pool is open to visitors all year-round and is definitely worth taking a dip in. The pool is kept warm at a toasty 96.8°F and provides stunning, panoramic views of the Danube River. Relax, rejuvenate, rejoice in maximum comfort and style.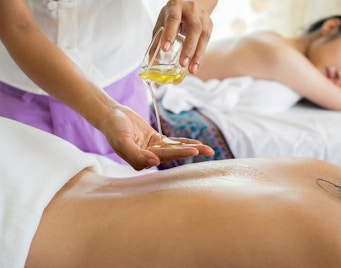 Massage Treatments
There are very few problems that relaxing massage therapy cannot solve. Choose from a wide range of massage treatments at Rudas Baths. Aroma Relax Massage, Medical Massage, Skin Firming Massage, and Deep Nourishing Massage are the treatments offered at the center. Drinking Fountains
Rudas Baths are known for their drinking fountains which provide safe drinking water that contains a variety of vitamins and minerals. The Hungaria healing water, Attila healing water, and the Juventus healing water are said to provide relief from various health issues like acid reflux, gallbladder issues, high blood pressure, and more. Rudas Bistro
Head to Rudas Bistro to taste the culinary specialties of the area. The bistro's menu offers a delectable selection of Hungarian and international food. Starting your day with a therapeutic bath and ending it at the bistro with a beautiful panoramic view of the Danube river as the backdrop does indeed make for a picture-perfect day.
History of Rudas Baths Built during the mid-16th century during the Turkish occupation, the Rudas Thermal Bath consists of a beautiful centerpiece called the Turkish Bath. The Bath has a 10m diameter dome, shouldered by 8 pillars consisting of an octagonal pool within. Towards the end of the 20th century, the area was expanded by constructing a room with a swimming pool and baths, which operated as a therapeutic swimming facility with a sauna. 
As per the easter tradition culture, only men were allowed to exclusively visit the thermal bath, until recently in 2005, when the repairs began on the Rudas Bathhouse. In the drinking hall, the water sourced from Hungaria, Attila, and Juventus can be consumed for curing health ailments.
About Budapest Baths
Book Your Budapest Baths Tickets
Frequently Asked Questions About Rudas Baths
A. Rudas Bath is a thermal bath complex in Budapest that was built in 1550 during the Ottoman rule. The Turkish bath is a significant attraction and is known for its Turkish dome, octagonal pool, and the medicinal properties that its waters carry. 
Q. Do the Rudas Bath waters have medicinal properties?
A. Yes, the Rudas Bath waters have medicinal properties with components like sulfate, calcium, magnesium, fluoride ion, and bicarbonate that can help treat joint illness, joint inflammations, neuralgia, and lack of calcium in the bone, to name a few.
Q. Is it safe to visit Rudas Baths after Covid-19?
A. A. There are many safety protocols in place to ensure maximum safety while you visit Rudas Baths. You are required to present your vaccination certificate or Covid pass.
Q. What is the best time to visit Rudas Baths?
A. We recommend you to visit the Rudas baths either in the morning around 10:00 AM or at noon. During the early morning hours, between 6-8 AM, the bath complex is less crowded and is mostly used by the locals.
Q. What is a Turkish Bath?
A. A Turkish bath, also known as a Hammam, is a steam bath popular in Turkey and various parts of the world, since medieval times. Traditional Turkish baths comprise an octagonal pool with thermal waters.
Q. Is Rudas Baths a Turkish Bath?
A. Yes, the Rudas Bath is a famous medieval Turkish Bath in the city and is inclusive of 6 thermal baths and a large swimming pool.
Q. Can I store my belongings somewhere safe in Rudas Baths?
A. Rudas Bath comes with lockers or cabins where you can safely store your belongings.
Q. What do I need to bring when I visit Rudas Baths?
A. Visitors are urged to carry a pair of flip-flops, swimwear, a towel, and a swim cap while visiting Rudas Baths. Carry bathing essentials like soap and shampoo as well.
Q. Where can I book my Budapest Baths tickets?
A. Save money with attractive discounts and book your Budapest Baths tickets online and in advance in order to avoid long queues at the last moment.
Q. Are the pools at Rudas Baths mixed/coed?
A. The baths are open to men all week long, and for women only on Tuesdays. If you and your partner wish to visit together, you can visit on a weekend. The swimming pool is open for men and women on all days.
Q. Can we visit Rudas Baths at night?
A. Yes, you can visit the Rudas Baths at night on Fridays and Saturdays from 10:00 PM to 3:00 AM. 
More Reads Széchenyi Baths Gellért Baths Lukács Baths