Gellért Baths | A Guide to the Famous Art Nouveau Thermal Bath in Budapest
Table of Contents
The Gellért Baths are a world-renowned bath complex in the heart of Budapest. Gellért Baths in Budapest are a component of the famous Gellért Hotel and offer services like saunas, thermal pools, medicinal massages, and mud treatments. Make the most of your visit by learning everything there is to know about this remarkable center of healing.
Gellért Baths: An Overview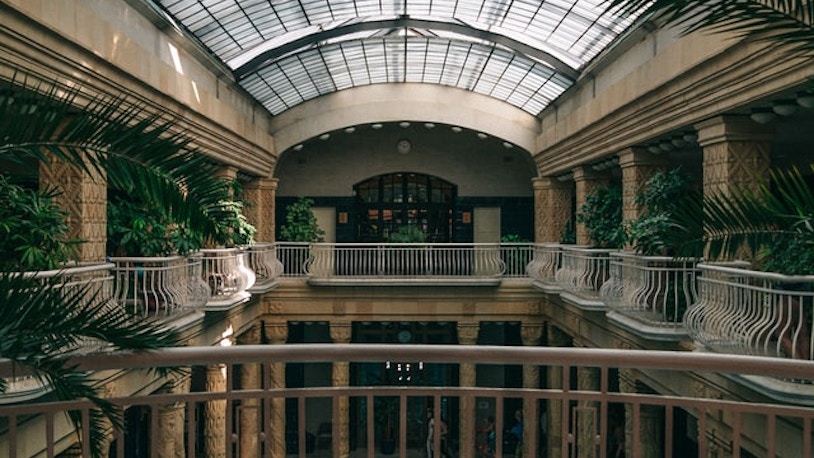 Number of Pools: 10 pools of different sizes and temperatures
Architectural Style: Art Nouveau style
Water Temperature Range: 95°F - 104°F
Medicinal Components of Water: Calcium, magnesium, hydrocarbonate, alkalis, chloride, sulfate, and fluoride
About Budapest Baths
Gellért Baths Location
Address: Budapest, Kelenhegyi út 4, 1118 Hungary
To locate the meeting point on Google Maps, search for - Gellért Thermal Bath.
Szent Gellért tér is the nearest subway stop and Szent Gellért tér - Műegyetem M is the closest tram stop. The bath is only 5 minutes from either stop. 
What are Gellért Baths Famous for? As the site of the world's first international balneological conference, the Gellért Thermal Baths are reverentially associated with top-notch healing services and are known as the second most popular bath complex in Budapest. The thermal water has reinforcing properties against common joint ailments, degenerative illnesses, and circulatory or spine disorders. Located in the midst of a bustling metropolis, this bath complex is charming in its picture-perfect Art Nouveau style of architecture and offers a variety of different pools.
Plan Your Visit
Medicinal Waters of Gellért Baths The prime attraction of the Gellért Baths lies in the extraordinary healing properties of the water that feeds its many indoor and outdoor pools. The thermal water originates from within Gellért Hill, overlooking the River Danube which bisects the city of Budapest.
This water is rich in minerals such as sodium, magnesium, fluoride ions, sulfate, calcium hydrogen carbonate, and chlorine. The thermal water is incredibly fortifying against ailments ranging from circulation-related disorders, spine and vertebrae injuries, degenerative illnesses, and common joint problems, among many others.
The Gellért Baths are not just meant for those with active health problems. In fact, the thermal waters are highly beneficial to healthy visitors as well. Nobody is exempt from the positive impact of the mineral-rich medicinal waters at Gellért Baths.
History of Gellért Baths The Gellért Baths have had a prolific history, with the present building having been built sometime between 1912 and 1918. The site of this bath complex has been the recipient of healing waters from natural hot springs dating as far back as the 13th century. Baths were constructed at the present site during the reign of the Ottoman Empire.
Dating back to the Middle Ages, hospitals were built at this site as well. Such is the dedication to healing that is exemplified by this bath complex, that it remained open and operational even while the 2nd World War was underway in full swing.
Unfortunately, during this period, the then women's thermal bath suffered quite a lot of damage upon being bombed. Nonetheless, a subsequent reconstruction was able to restore the original grandeur of the charming Art-Nouveau-style of architecture that the Gellért Baths are widely known for.
Gellért Baths Architecture The Gellért Baths are famous for their charmingly authentic architecture and famed healing water baths.
Each crevice of this world-famous bath complex is decorated with exquisite taste and acute attention to detail.
It was in 1918 that the Gellért Baths and the Hotel Gellért were originally opened, following which they were expanded, first in 1927, and then later in 1934.
These expansions included improvements such as the artificial wave pool and the bubble bath. While the mosaic tiles are the highlight of the thermal baths, the main hall of the Gellért Spa is best known for its gallery and glass roof that were built in the Art-Nouveau style.
Additionally, many of the indoor pools are also situated directly under glass panel ceilings for a truly relaxing soak.
Apart from the rejuvenation that visitors experience, the bath complex is consistently beautiful to behold with its elegant turquoise ceramics and detailed mosaics at every turn.
What Can I Find Inside Gellért Baths?
The Gellért Baths complex offers a range of facilities ranging from sauna services, medical massages, and plunge pools, to thermal baths, mud treatments, and Thai massages as well. Thermal Baths
Fed by natural hot springs and imbued with healing properties galore, the Gellért Baths house a range of options for indoor thermal baths. Several pools are also fitted with underwater jets to cater to aqua massage therapy. The minerals in the water ensure their therapeutic and medicinal properties for all kinds of ailments. Plunge Pools
Usually meant to be used after a sauna session or steam services, plunge pools are also widely known as immersion pools. The Gellért Bath complex houses 2 plunge pools, each with a capacity of 3 persons at a time, and are typically kept at 64.4°F. Sauna
Prepare to enter a zen zone and allow the toxins to be flushed out from your body as you make use of the Gellért Bath saunas. You can choose from among the outdoor Finnish saunas or the indoor hot air chambers and steam rooms. Apart from relaxing your muscles and relieving stress, regular saunas can provide respiratory relief and improve cardiovascular health overall.
Pools at Gellért Baths
As the most popular bath complex in Budapest after the Szechenyi Baths, the Gellért Baths boast of a whopping 10 pools of varying sizes and are dedicated to different purposes.  These combinations of pools span a wide spectrum of depths and holding capacities, and are maintained at a range of varying temperatures from as low as 53.6°F all the way up to 104°F. Medical Pools
The Medical Pools at the Gellért Baths are dedicated to the function of recovery and prevention. The water inside these pools is set at temperatures between 95°F to 104°F, and the pools themselves are about 1.2 meters deep. Please note that unless prescribed by a practicing physician, children under the age of 14 years are not permitted to use the Medical Pools. Swimming Pool
Kick back and relax in the large swimming pool at the Gellért Baths. Water temperature is set at around 80.6°F in a pool that is around 0.8 to 2 meters deep.  Please ensure you are clothed in appropriate swimwear and are wearing a swim cap before entering the swimming pool. Wave Pool
The Gellért Baths' fabulous Wave Pool is iconic for its hourly transformation into a huge ocean-like crest and the stunning views it offers. The pool is 0.4 to 2.75 meters deep and is maintained at a temperature of 78.8°F.
Outdoor Thermal Pool
Experience the luxury of thawing out in the toasty waters of the Gellért Baths' outdoor thermal pool, constructed at a comfortable depth of 1 meter. With a water temperature of 96.8°F, you'll be able to relish the opportunity of soaking in the steaming waters during the chill of the winter months.
Gellért Baths Highlights Indoor Pools
The Gellért Baths contain 10 indoor pools, each of varying depth and holding capacity. Apart from the renowned medical pools, these indoor pools also include plunge pools, sitting pools, and underwater traction pools. The water in each of these pools is maintained at different temperatures ranging from 64.4°F to 104°F - depending on the intended use of each. Outdoor Pools
The outdoor pools at the Gellért Baths include the wave pool, the sitting pool, and the plunge pool. While the wave pool is a hit in the summer months for its refreshing simulated tidal waves, the plunge pool is useful after a steam or sauna session, to cleanse your pores and seal them. Lastly, the sitting pool is an outdoor thermal pool maintained at 96.8°F, best enjoyed in the chilly winter months. Danubius Hotel Gellért
Named after the first Hungarian bishop, Saint Gellért, this hotel was constructed in the Secessionist style while the interiors are Art Nouveau. The hotel is owned and managed by Danubius Hotels, and is connected with the Gellért Spa even though the latter is operated under the City of Budapest After the Second World War, Communist authorities undertook the removal of "St." from the hotel's name, making it what we know today as Hotel Gellért.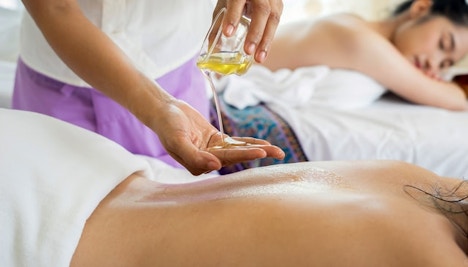 Massage Treatments
The Gellért Spa offers different massages from short 20-minute sessions to luxurious full-body massages lasting 60 minutes with customizable aroma options. You can book Swedish or Thai massages based on your preferred style of relaxation. For a truly VIP experience, book the Luxury Refreshing VIP Massage where the masseuse adapts the session to address your particular pain points and musculature.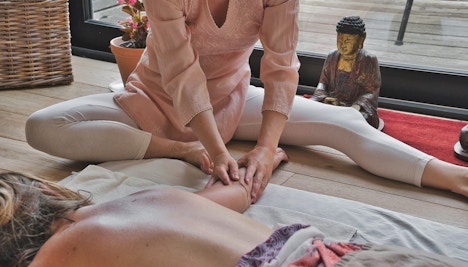 Thai Massages
There are 4 kinds of Thai massages offered at the Gellért Baths, with different options for the duration of the session. The Traditional Thai Massage, the Thai Oil Massage, and the Thai Herbal Massage can each be booked for 60 minutes, 90 minutes, or 120 minutes. You could also book the Thai Foot Massage for either 30 minutes or 60 minutes.
Private Bath at Gellért Baths While the traditional experience at Gellért Baths undeniably has its unique charm, there is something to be desired in the way of privacy when you're packed like sardines among a jumble of strangers in the bath complex's public pools.
If you're traveling as a couple, or with a group of close friends or family - the Gellért Baths' private bath offers a more intimate and relaxed experience, complete with its restricted entry and private hall.
Indulge in a complimentary fruit bowl with some sparkling wine as part of your reservation for the private bath. The Private Bath can be booked for 1.5 hours for 2 people and is a truly luxurious alternative to the public pools and baths.
Other Services at Gellért Baths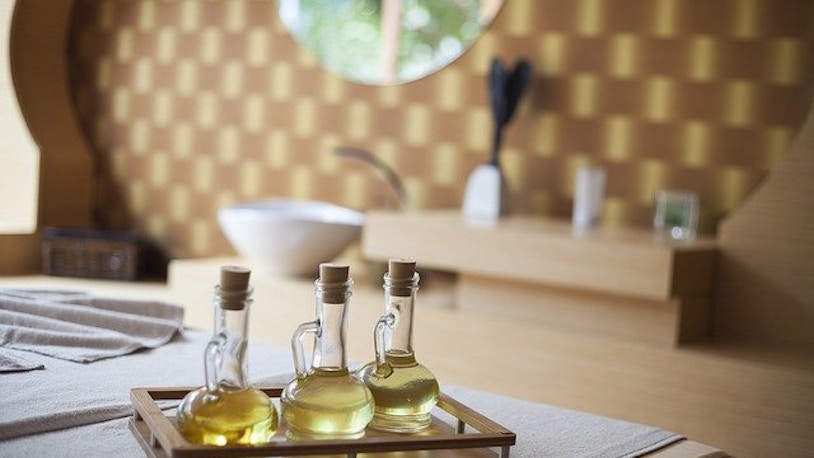 Although the Gellért Baths are globally famed for their healing thermal water baths and pools, that's just the tip of the iceberg. The bath complex offers a range of other relaxing services such as couple massages, steam baths, inhalation rooms, and saunas.
You can even make your way to the sprawling sun decks or sunbathing terrace to get that vacation glow. There are also pedicure and salon facilities in case you're in the mood to pamper yourself a bit more.
Book Your Budapest Baths Tickets
Frequently Asked Questions About Gellért Baths
Q. What are Gellért Baths?
A. Gellért Baths are a world-famous bath complex reputed for the healing properties of the mineral-rich thermal waters which feed its public baths and pools. Apart from this, this bath complex situated in the heart of Budapest offers therapeutic healing massages and an array of services dedicated to wellness and relaxation.
Q. Do the Gellért Bath waters have medicinal properties?
A. Owing to the rich mineral components present in the thermal waters fed by natural hot springs from Gellért Hill, the waters of the Gellért Baths are highly fortifying and have medicinal properties that provide relief from several physical ailments and degenerative diseases.
Q. Is it safe to visit Gellért Baths after Covid-19?
A. The Gellért Baths have initiated several safety practices for guests in light of the prevailing global conditions due to Covid-19. These measures include the compulsory provision of Covid-19 vaccination certificates for entry to the bath complex. Moreover, towel rental has been suspended. Masks are to be worn at all times except when entering the pools. While there is a sophisticated filtering system in place at the hot thermal pools, there are measured amounts of cleaning salts and chlorine for the hygiene of the outdoor cool pools.
Q. What is the best time to visit Gellért Baths?
A. It is best to visit the bath complex during early mornings on weekdays in order to avoid the crowds.
Q. Can I store my belongings somewhere safe in Gellért Baths?
A. Rest assured, the purchase of a ticket to the Gellért Baths comes with access to either a locker or a cabin to store your belongings.
Q. What do I need to bring when I visit Gellért Baths?
A. Ensure to carry a face mask and wear it at all times when visiting the Gellért Baths. Additionally, in compliance with bath etiquette, you must carry your swim cap to enter the swimming pools and be clothed in appropriate swimwear. Do bring your towel since towel rental has been suspended due to Covid-19. Carry a pair of bathroom slippers for ease of getting around without dirtying the interior floors of the bath complex with your outdoor shoes.
Q. Where can I book my Budapest Baths tickets?
A. A range of ticket combinations for Budapest Baths is available online here.
Q. Are the pools at Gellért Baths mixed/coed?
A. Yes, the Gellért Baths are mixed gendered. Although the baths were originally separated for genders, this division was dissolved in January 2013.
Q. Can I book a private bath at Gellért Baths?
A. You can book a private bath at Gellért Baths for 1.5 hours with a capacity of 2 people, and enjoy a complimentary fruit bowl and sparkling wine.
More Reads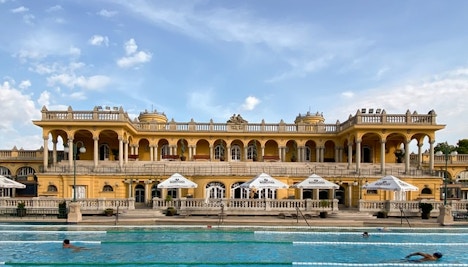 Széchenyi Baths Rudas Baths Lukács Baths